Three Tacoma craft beer gurus have launched Grit and Grain, a weekly podcast to explore and celebrate the craft beer industry, community, and history in their beloved city, with the help from Tacoma centric podcast hub, Channel 253.
Dropping every Friday, Matt McLaren (Orcas Distributing), Sean Jackson (Parkway Tavern) and Ron Swarner (Peaks & Pints) steer Grit and Grain through greater Tacoma's rich beer history — Ezra Meeker's Puyallup hop farm in 1865, the first state railroad in 1873, the first commercial brewery in 1888 — and into modern day beer discussions with local and regional beer experts. Channel 253 co-founder Erik Hanberg and engineer Doug Mackey polish the F-bombs spewing from the three India Pale Yale graduates and feisty guests.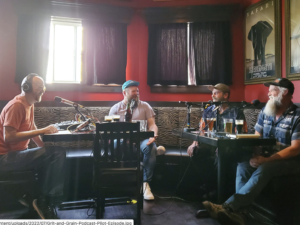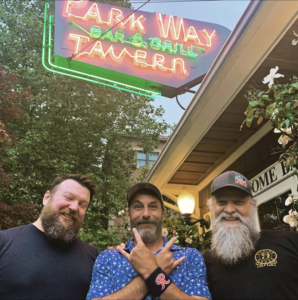 The podcast launches with three completed podcasts — a pilot episode where listeners learn how the team landed in the beer industry, followed by a double episode with Shane Johns, a former chef turned mixed culture crackerjack who has taken Tacoma's E9 Brewing to world-renowned status. Listeners can expect insightful podcasts offering a deep dive on topics relevant to the industry supported by relevant interviews with some of the industry's most influential figures, including brewers, marketers, writers, historians, chefs, and line cleaners.
 Available on Spotify, Apple Music, Google Play, iHeartRadio and Stitcher, the podcast hopes to educate beer novices and experts alike, bringing a behind-the-scenes look into the industry, all the way from brewing to sales, shipping, and delivery.
More information about the podcast series and individual episodes can be found at gritandgrainpodcast.com. Reach us at [email protected]. The Grit and Grain podcast is also on Instagram, Facebook, and Twitter
Meet the team

MATT MCLAREN is a Level 3 Advance Cicerone, brand manager at Orcas Distributing, and former cellarman at Harmon Brewing. An epicurean with no reservations, McLaren emcees the podcast like he's orchestrating a boujie farmers market meal.
SEAN JACKSON is the manager of the famed Parkway Tavern, and former brewer at E9 Brewing in Tacoma and Mudshark Brewery in Lake Havasu City, Arizona. With a Rogue Dead Guy hat on his head, and a pencil behind his ear, Sean drops F-bombs and laugh bombs while hosting some of the most popular beer festivals in Western Washington.
RON SWARNER is co-owner of Peaks & Pints, and a journalist for more than 35 years, including founding the Weekly Volcano alternative newsweekly where he wrote the New Beer Column, launched Tacoma Restaurant Week, Best of Tacoma, and food tournaments. With a voice like Grandpa Simpson, and a ridiculous lumberjack wardrobe, Ron curates the beer at Peaks, as well as runs the yearly Tournament of Beer.
CHANNEL 253 seeks to assemble the best podcasts about Tacoma. Founded by Tacoma's Renaissance Man Erik Hanberg, founding podcast "Move To Tacoma" and visionary Marguerite Martin, and Moon Yard sound engineer and musician Doug Mackey, Channel 253 covers politics, news, culture, food, beer, sports in Tacoma one episode at a time.