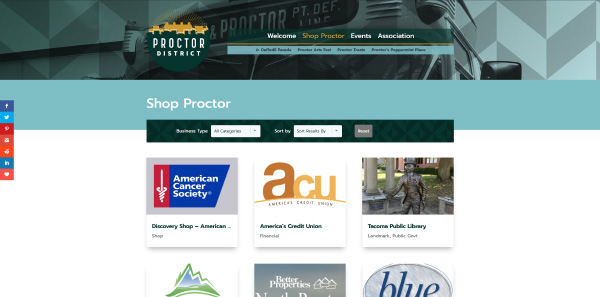 We are happy to launch our new website which provides more visibility to all Proctor businesses by the use of categories.  This also allows users to find what they are looking for faster.  Additionally, we updated our events calendar section to include more events so that all community events can be captured and managed with ease.
Website/Social Media Board Member Position
A new PDA board position was created to support content for the Proctor members and community.  With the creation of the new position and better tools like this website we hope to provide more information faster, and capture events from all the PDA Members.
News Section
We wanted to make sure we are able to communicate from a PDA perspective, the latest happenings in the district, including PDA business spotlights, current sales offers, and more!  Stay tuned, we hope to release more news soon!
PDA Member Business Profiles
All PDA members now have a business profile.  Basically, a landing page to promote their business.  These profiles allow users to sort and filter based on what they are looking for.
Overall, we are excited about all the new possibilities this platform will do for our community.  Please check in regularly.